At Lighthouse Studios, our mission is to help you shine your light. And how we do that is, by offering affordable, world class video and audio production to everyone, with professional studio spaces, high-end equipment, superstar team and an environment that will bring your creativity to life. And, all in the best place in the world for content creators, Bali, Indonesia.
With three acoustic-treated studios, with different layouts, backgrounds, lighting and equipment, we have a wide range of customisable options to make sure we get the look and feel you need to create the perfect production to stand out from the crowd.
All studios come standard with lighting and microphones. Then scale up your production with add-ons for cameras, upgraded microphones, videographers & more, depending on your production requirements.
Members receive significant discounts on studio and equipment bookings. Click on the studios below to view prices.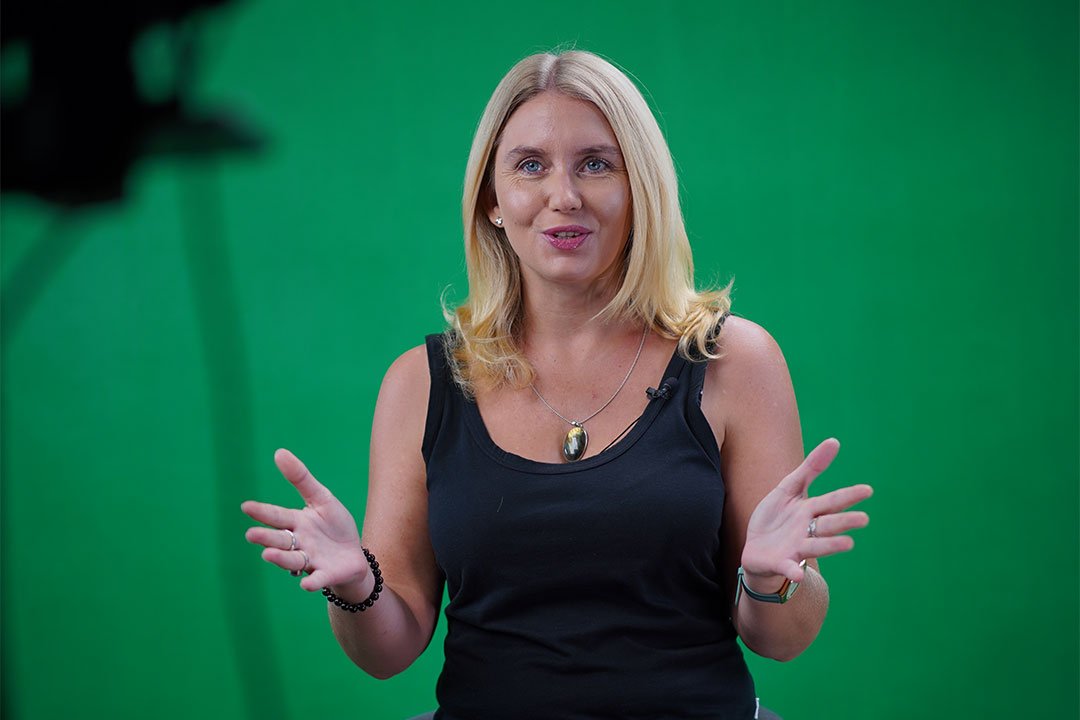 Studio 1
Video Content & Podcast
Large multi-purpose acoustic treated studio for video & film production, With several options for sets & backdrops, we can customise according to your production needs.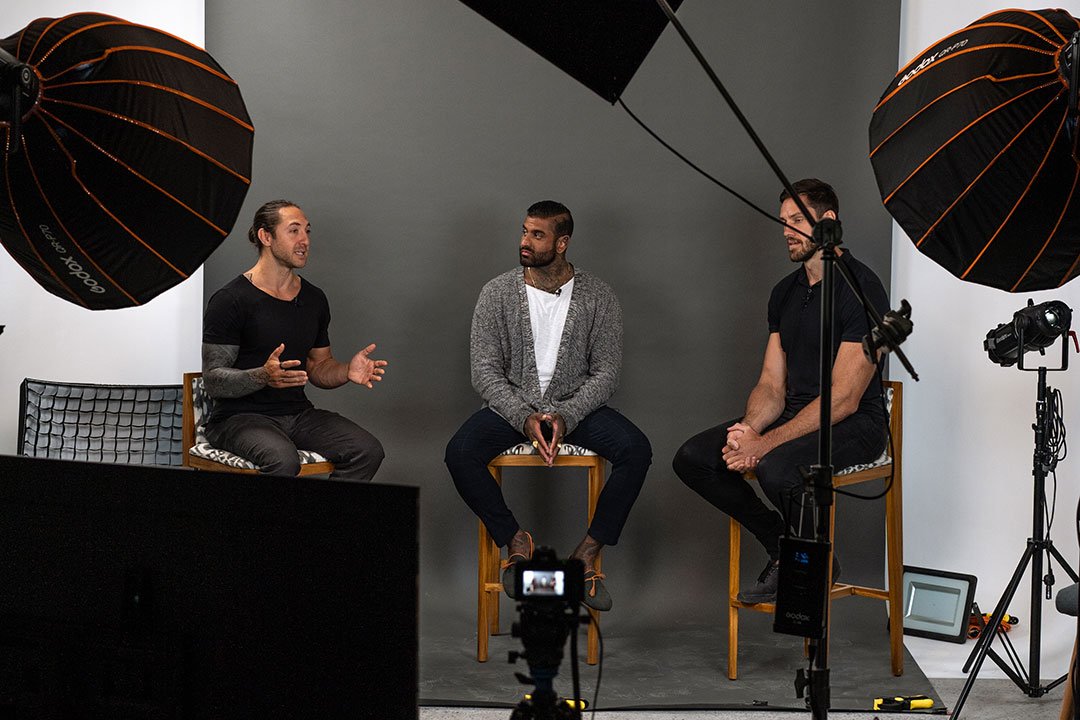 Studio 1
Virtual Conference
With screens for interacting with participants and multi-camera live edits & streaming technology, we are Asia's first purpose-built studio facility for speakers & presenters to hold live virtual summits & conferences to be professionally broadcasted online.
Studio 1
Workshop/Seminar Space
Studio 1 can be used to hold workshops, seminars, masterminds, panel discussions & more. We can also record & even live-stream your event.
Studio 1
Photography
With a cyclorama wall, multiple color backdrops & a large selection of lights, as well as private shower & changing room, Studio 1 is an excellent self-contained space for professional photographers.
Studio 2
Video Content Production
Set up specifically for coaches, speakers & experts to record content for courses, programs & YouTube channels. With a variety of setups, with lights, cameras & props including whiteboards, Studio 2 is the perfect space to take your content to another level.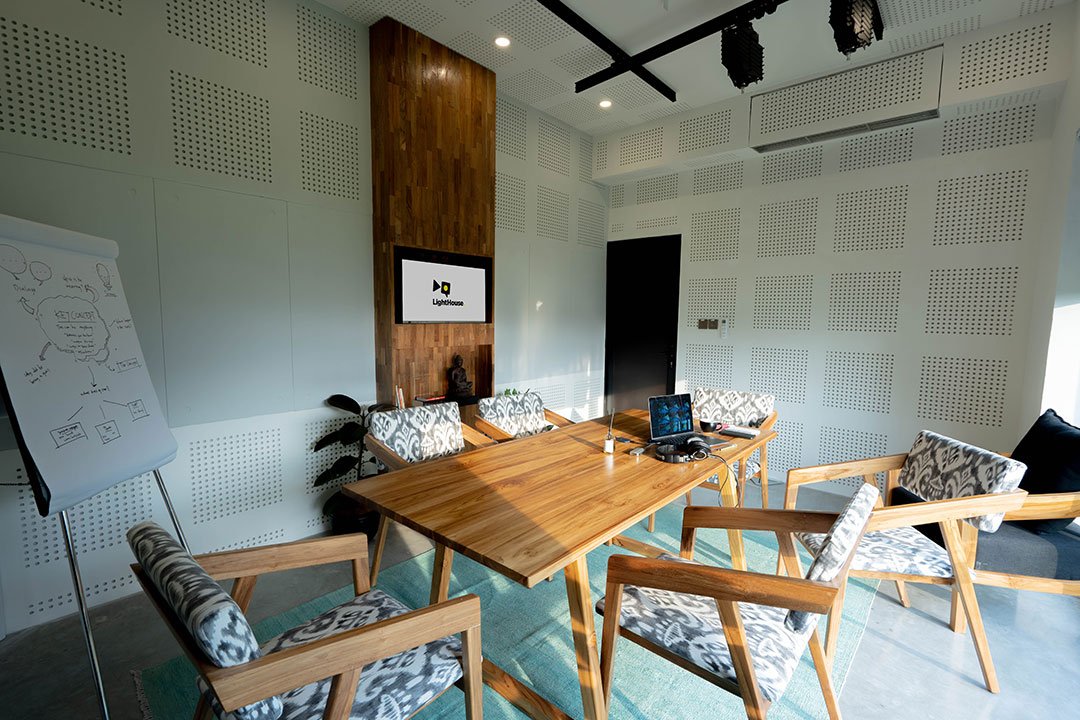 Studio 2
Meeting or Webinar Room
Studio 2 doubles as a private meeting room with seating for up to 6 people to hold your mastermind, board meetings or webinars. With a view over the ricefields, whiteboards, LED screen & dedicated internet line, this room will make you super productive.
Studio 3
Podcast
Designed by award-winning designer Caroline Usher, this is the perfect studio to add class to your podcast production. With different options for audio only or with cameras, we'll take your podcast to the next level here.
Studio 3
Audiobooks & Voiceover
Studio 3 has been professionally acoustic treated to accomodate for recording audiobooks, voiceovers and narrations. With a choice of microphones, you can choose to "Do It Yourself" or have a professional sound engineer to make sure your recording is perfect.
Studio 3
Webinar Room
With views over the ricefields, Studio 3 is an inspiring and quiet space to get those important meetings done. With a dedicated internet line, plus a backup, you've got the best chance in Bali of staying online.
Want to find out more about recording, producing & editing? Schedule a call with us today!
Copyright © 2023 LightHouse. All rights reserved.